Program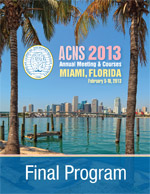 Click here to download the complete Final Program
Annual Course Program
Chair: William O. Tatum IV, DO
This year the theme of the ACNS Annual Courses will be intervention. Courses will continue to highlight the growth areas in clinical neurophysiology. Each course will be led by two expert co-chairs, providing a team approach that ensures comprehensive coverage of the topics. Complete Course listings may be found in the Preliminary Program.
Annual Meeting Scientific Program
Co-Chairs: Jonathan C. Edwards, MD and Mark Hallett, MD
This year's scientific program will again feature the latest scientific advances in clinical neurophysiology presented by leading national and international experts in the field. Increased audience interactivity will be a theme throughout the program. The parallel sessions will usually provide simultaneous sessions for interests in EEG, electrodiagnosis and monitoring, as well as workshops and Special Interest Groups. The complete Annual Meeting program is available in the Preliminary Program.
Last updated: January 25, 2013