2014 Annual Meeting and Courses
The American Clinical Neurophysiology Society (ACNS) 2014 Annual Meeting & Courses was held February 4-9, 2014 at the Westin Peachtree Plaza in Atlanta, Georgia. 400 delegates from all over the country and North America convened at this year's program.
The quality and intensity of the Annual Courses included the most recent information on clinical neurophysiology by notable speakers including presidents or past presidents of the ACNS, American Association of Neuromuscular & Electrodiagnostic Medicine Society (AANEM) and the American Epilepsy Society (AES). Audience participation was the directive this year, with more time being allocated to question-and-answer time and less on didactic presentation. Thought leaders were assembled for each course to provide first-rate, cutting-edge direct concept and research information on a personal, interactive level. We heard from many people that the Annual Courses were one of the "best kept secrets in Neuroscience" and the chance to mingle with "the giants in the field," a unique aspect of the Society that is under-rated as a tool to advanced learning.
The Annual Meeting provided increased focus on hot topics including ICU EEG monitoring and intraoperative monitoring were well received. Some of the new features of this year's meeting included the introduction of standing special interest group meetings (SIGs) covering the topics of Pediatric EEG, EMG, Intraoperative monitoring, MEG and ICU EEG monitoring. New lunch-time sessions for discussion of case studies and issues relevant to private practice neurophysiology were also well attended. One of the highlights of every symposia, the Neurophys Bowl, offered no exception this year as contestants of all ages battled to display their neurophysiology knowledge.
The 2014 Award Recipients were:

Dr. Ronald Emerson accepts the 2014 Gloor Award from then-First Vice-President Aatif M. Husain, MD, FACNS. Dr. Emerson's Gloor Award Lecture was titled "All Waves that Glitter are not Gold....Lessons of the Penumbra and the Core."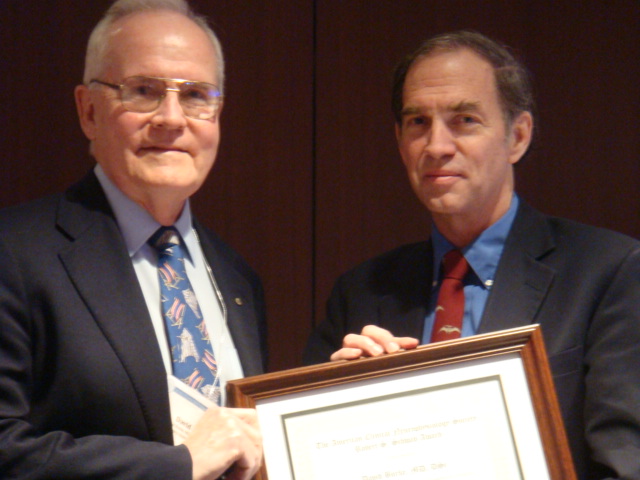 Prof. David Burke accepts the 2014 Schwab Award from then-President Frank W. Drislane, MD, FACNS. Dr. Burke's Schwab Award Lecture was titled "The Exitable Axon."
The 2014 Herbert Jasper Award was presented to Ernst Rodin, MD, FACNS from the University of Utah for his lifetime of outstanding contributions to the field of clinical neurophysiology. Dr. Rodin was not able to attend the meeting, but provided an inspiring recording that described his work in neurology and clinical neurophysiology.
The success of the 2014 Annual Meeting & Courses can be attributed to the outstanding dedication of the Program, Course and Continuing Medical Education Committees. The Course Committee Co-chairs, Tobias Loddenkemper, MD, FACNS and William O. Tatum, IV, FACNS worked together to provide an Annual Courses program to ensure highlighted growth in clinical neurophysiology. Program Committee Co-chairs Suzette M. LaRoche, MD, FACNS and Gregory Worrell, MD organized the Annual Meeting to ensure the lectures covered all the latest scientific advances in various areas of clinical neurophysiology.
The ACNS would like to thank all the 2014 Annual Meeting & Courses supporters:
| | | |
| --- | --- | --- |
| ABCN/ABRET | Electrical Geodesics, Inc. | Rhythmlink International, LLC |
| ACMEGS | Elekta Neuromag | Ripple, LLC |
| Alpha Omega Co. USA | Ives EEG Solutions | Rochester Electro-Medical, Inc. |
| Austrian Institute of Technology | Moberg | RSC Diagnostic Services |
| Cadwell Laboratories, LLC | mytaMed, Inc | Signal Gear, LLC |
| Compumedics USA | Natus Neurology | UCB |
| Consolidated Neuro Supply | Nihon Kohden America | Visualasem Inc. |
| Corticare | Persyst Development | Wolters Kluwer Health |
| Demos Medical Publishing | PMT Corporation | WR Medical Electronics, Co |
| DigiTrace EEG Services | | |