Exhibits & Product Theaters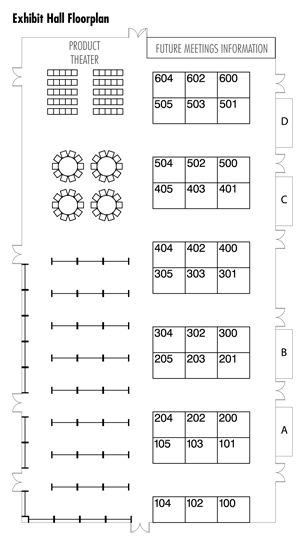 | | |
| --- | --- |
| Exhibitors Booth | # |
| ABCN/ABRET | Table A |
| American Board of Psychiatry & Neurology (ABPN) | Table B |
| American Clinical Magnetoencephalography Society (ACMEGS) | Table C |
| American Society of Electrodiagnostic Technicians (ASET) | Table D |
| ANT Neuro | 501 |
| Blackrock NeuroMed | 402 |
| Brain Sentinel | 403 |
| Cadwell Laboratories, Inc. | 404 |
| Compumedics USA, Inc. | 401 |
| Cortech Solutions | 300 |
| CortiCare | 604 |
| Electrical Geodesics, Inc. (EGI) | 301 |
| Elekta Neuromag | 101 |
| Encephalodynamics, Inc | 503 |
| Ives EEG Solutions | 202 |
| Labouré College | 103 |
| Lifelines Neurodiagnostic Systems | 405 |
| Loyal Source Government Services | 600 |
| Medical Practice Solutions | 504 |
| Medtech | 105 |
| Moberg Research | 102 |
| Natus Neurology | 500 |
| Neuralynx | 302 |
| NeuroPace | 602 |
| Neurotech | 203 |
| Neurovirtual | 205 |
| Nihon Kohden America | 304 |
| Persyst Development Corporation | 201 |
| Rhythmlink International, LLC | 502 |
| Rochester Electro-Medical, Inc. | 400 |
| Signal Gear, LLC | 200 |
| SpecialtyCare | 204 |
| Sunovion | 303 |
| UCB | 100 |
| Upsher-Smith Laboratories, Inc. | 104 |
| Wolters Kluwer Health | 505 |
| WR Medical Electronics Co. | 305 |
---
PRODUCT THEATERS
IMPLEMENTING A ROSASTM ROBOTIC-ASSISTED NEUROSURGERY PROGRAM
Presented by: MedTech
Friday, February 12, 2016
1:00 – 2:00PM
Location: International Ballroom, Product Theater

Instructor: Sumeet Vadera, MD (Assistant Clinical Professor — Department of Neurological Surgery, UC Irvine Health)

Dr. Vadera earned his medical degree at Jefferson Medical College in Philadelphia, Penn., and completed a neurosurgery residency and a fellowship in epilepsy surgery at the Cleveland Clinic Foundation in Cleveland, Ohio.

This session, hosted by Medtech Surgical, will feature a discussion of the ROSATM robotic program at UC Irvine, and a review of some of the cases performed utilizing ROSA to guide minimally invasive SEEG and surgical interventions

Dr. Vadera is a fellowship-trained UC Irvine Health neurosurgeon who specializes in epilepsy surgery, with expertise in minimally invasive surgery for adult and pediatric patients with epilepsy. His clinical expertise is in neuromonitoring, specifically subdural grids and stereoelectroencephalography (SEEG), and the early treatment of patients with medically intractable epilepsy. He performs laser surgery to treat deep epileptic lesions in the brain, using minimally invasive techniques as well as implantation of the Neuropace RNS® (responsive neurostimulation) device.
REVELATIONS FROM CHRONIC AMBULATORY ECOG MONITORING: INSIGHTS FROM THE RNS® SYSTEM
Presented by: NeuroPace
Saturday, February 13, 2016
1:00 – 2:00PM
Location: International Ballroom, Product Theater

Instructors: Martha Morrell, MD
David Spencer, MD
Lawrence Hirsch, MD, FACNS

This session will provide an update on what chromic ambulatory ECOG data is teaching us about epilepsy in general and about individual patients. Discussions will cover ECOG biomarkers, circadian periodicities in epileptiform discharges and electrographic seizures and shifting laterality in mesial temporal lobe epilepsies.