2020 Annual Meeting & Courses Preliminary Program Now Available
ACNS's flagship educational program - the Annual Meeting & Courses - will be held February 5 - 9, 2020 in historic New Orleans, Louisiana.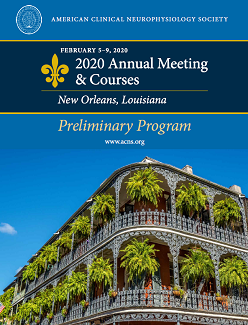 The Annual Meeting is designed to provide the latest scientific advances in both "central" and "peripheral" clinical neurophysiology and will have value for clinical neurophysiologists, neurologists, psychiatrists, physiatrists, neurosurgeons, trainees in these disciplines, other physicians and researchers, and neurophysiology technologists who specialize in clinical neurophysiology.
The Preliminary Program is online now, and includes:
Complete Annual Courses & Annual Meeting Scientific Program agendas;
Call for Poster Abstracts;
Social & networking event information and more!
Download the preliminary program now on the Annual Meeting & Courses section of the ACNS website.